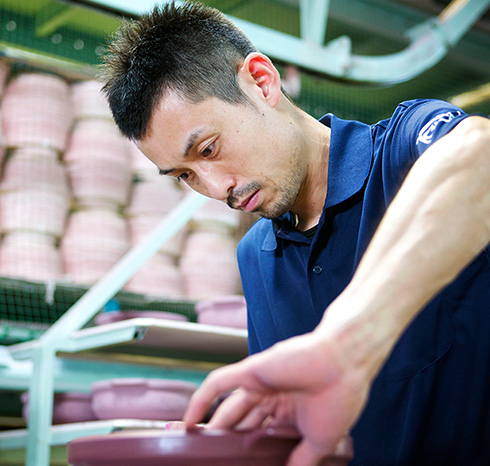 Since our founding in 1932, Ginpo Co., Ltd. has cultivated its history as a pottery manufacturer of "Banko-yaki of Yokkaichi City." From the beginning, the quality of each product has always been the most important for us.
We constantly work to have all our products have the same consistent properties as best as can be done when working with natural raw materials. This has been one of our great achievements in manufacturing.
Raw materials for "Banko-yaki of Yokkaichi City" are natural elements, such as clay and minerals. That is why our raw materials change slightly due to the weather, environment, and seasons. We have gained our customers' trust because we continue to manufacture our products in a stable and consistent form. This commitment has created the present-day Ginpo, and in 2000, Ginpo acquired international standard "ISO 9001 (quality management system)" certification. Also, we have a thorough commitment to manufacturing safe and harmless cooking utensils and tableware that are directly used with food.

"Banko-yaki of Yokkaichi City" is pottery that has been handed down for 300 years, but its name only became known nationwide around 1960. With a mineral called "Petalite" having been mixed into the potter's clay the heat resistance was significantly increased. Banko-yaki earthen pots from Yokkaichi City spread throughout the country. After that, Ginpo, as a result of its product development meeting the needs of the times, created popular earthen pot products, such as "Sumi-kannyu" and "Hana-mishima (Ginpo Mishima)." In recent years, developing products that can be used with IH cooking devices, we have developed earthen pots and tableware that match the evolution of the times in terms of heat sources and lifestyles.
Also in the future, Ginpo will continue to create tools of "Banko-yaki of Yokkaichi City" that will meet the needs of the times and can be used by chefs to the home consumer.

In our involvement in "Banko-yaki of Yokkaichi City", we have engaged in research and development in the hope of creating original products by adding new ideas to the manufacturing know-how that we have cultivated so far. Through such efforts, we came up with the idea of "manufacturing cookware that can utilize the heat storage properties and gentle heating effects of earthen pots. By doing so earthen pots have become more suitable for cooking using remaining heat, which brings out the deliciousness of the ingredients."
Based on this idea, we repeated our research, and succeeded in improving the airtight properties by applying a special process to the pot and lid, which in turn led to the development of "BLISSIO," a product with excellent heat storage, fire resistance, and airtight properties. This was only a short two years after we came up with the idea.
To make the best use of the greatness of "Banko-yaki of Yokkaichi City", we maintained the unique qualities of Japanese earthen pots in "BLISSIO." Also, we carefully selected four colors for this product― RURI, AME, ORIBE, which are unique to old Japanese custom colors; and black. Our strong hope for our customers is to experience the true greatness of "Banko-yaki of Yokkaichi City".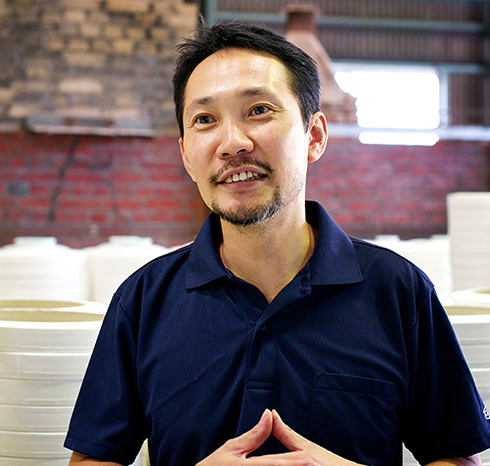 Special high-performance pots, such as enameled cast pots and pressure cookers, have been produced from various manufacturers from around the world. However, due to their heavy weight or difficulty in handling, it seems that for many families, they have become cookware which are only used on special occasions or only for cooking elaborate dishes. Cooking is part of our daily lives.
In the hope that our customers will use BLISSIO in their daily lives, we have developed it to be particularly lightweight and easy-to-handle in addition to its superior performance.
BLISSIO has many attractive features, such as its high heat storage, fire resistance, airtight properties and its abilities for waterless cooking that will bring out the deliciousness of the ingredients. Its greatest attractiveness lies in the minds of our customers, who say "I want to use it on a daily basis," or "I always end up using it."