The manufacturer of BLISSIO is Ginpo Co., Ltd., Japan's top manufacturer of earthen pots.Ginpo created BLISSIO, a waterless cooking pot, by exploiting their special techniques which they have cultivated as a pottery manufacturer of "Banko-yaki of Yokkaichi City "since its founding in 1932.
BLISSIO will widen the deliciousness and range of meals infinitely.
Please enjoy cooking with BLISSIO, and experience the richer flavors of your ingredients.When you cook with BLISSIO, it will bring to you a glorious moment that you haven't experienced yet!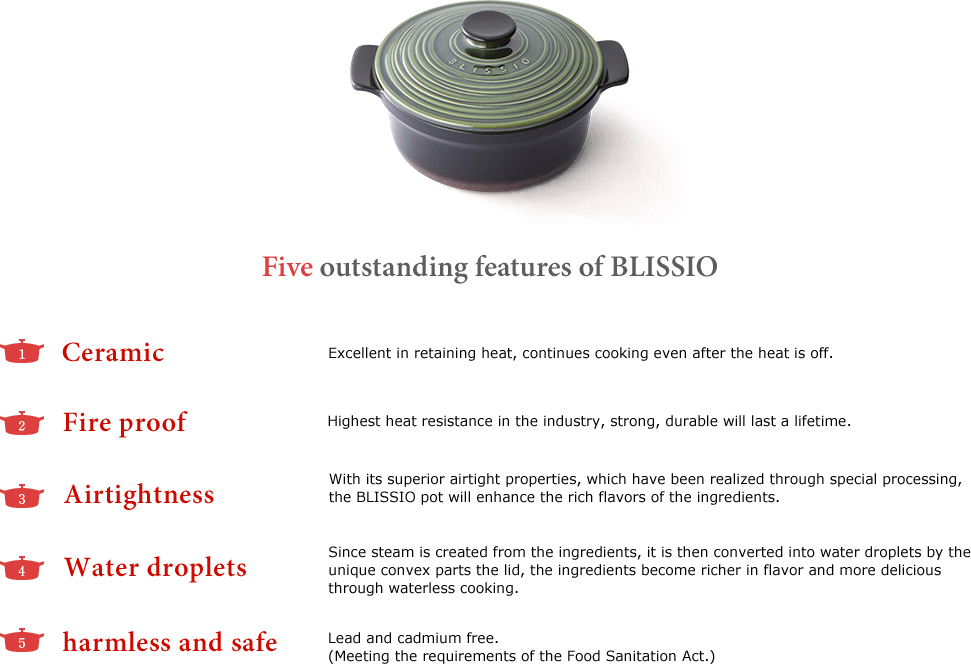 When comparing BLISSIO earthen pot with an enameled cast-iron pot or an aluminum alloy pot, the BLISSIO pot stands out as the most superior in terms of heat storage properties. With BLISSIO's excellent heat storage properties, it continues cooking, even after the heat is off.
Also, with its airtight properties, which were enhanced through special processing, the ingredients can be cooked so as to retain their delicious flavors, making waterless cooking possible.
Its lightness and easy-to-maintain features are also BLISSIO's advantages. No need to worry about rusting, denting or sticking together.
And BLISSIO's surface is easier to clean after cooking.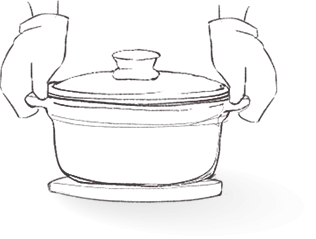 With its excellent

heat storage properties

, it continues cooking even after the heat is off.
You can do

waterless cooking

with BLISSIO pot!
The BLISSIO pot can be used in a microwave oven, open fire, or a gas oven.
Because of the BLISSIO'S airtightness, the ingredients are gently cooked and don't lose much of their shapes.

The highly airtight properties

will enhance the natural tastes of the ingredients as their vitamins and minerals are not lost as in other types of pots.
The weight of a BLISSIO pot with a diameter of 21 cm is as light as 1.9 kg!
Since it is made of ceramic, rusting can't happen! Easy to clean and beautiful to look at.
The BLISSIO pots

heat resistance

exceeded the maximum testing of 650 C. (Measured by the Mie Prefecture Industrial Research Institute)